Transfers
One of the things that I have emphasized repeatedly is that most homebirths will proceed without any problems, and in that case, it doesn't matter who is there. It only matters when something goes wrong. Of most concern to me is situations in which a complication occurs that requires an obstetrician or neonatalogist to save the baby. Homebirth advocates counter that they can recognize such situations in time and transfer the mother or the baby to the hospital.
Let's take a look at what happens in these situations. Below is a table created from data from four major studies that claim to show homebirth as comparable in risk to hospital birth. This table shows the percentage of attempted homebirths where the mother was transferred in labor or where the baby was transferred after birth. It also shows the death rate of babies in the transfer group.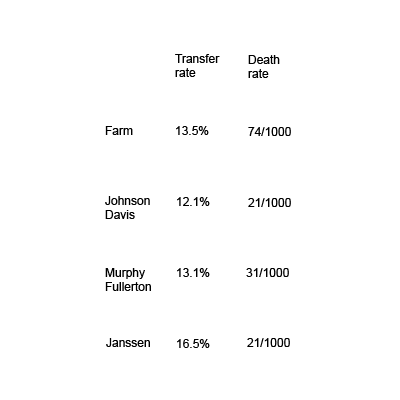 The transfer rate in labor or immediately after delivery is between 10-16%. So even in situations in which the mothers are considered perfect candidates for homebirth, more than 1 in 10 will require transfer to the hospital. This is not a trivial number. It means that anyone contemplating homebirth must anticipate that there will be a significant need for transfer to the hospital.
Of course, we expect the midwives to transfer patients to the hospital when they encounter a problem. The assumption is that the transfer will ensure that the baby will be healthy, because it will receive needed medical treatment in time. The truly startling result is the death rate in the transfer group. It is extraordinarily high, ranging from 21-74/1000. Put another way, the need for transfer in labor or immediately after delivery resulted in the deaths of 2.1%-7.4% of the babies transferred.
These numbers call into question some of the central claims of homebirth advocates. The first claim is that they can accurately predict which women are of such low risk that homebirth will be safe. The second claim is that their ability to recognize problems during labor and transfer patients ensures the safety of all babies. These extraordinarily high death rates suggest that if something does go wrong in labor, a disaster is may well ensue.
Labels: neonatal mortality